INDUSTRY is a product conference, coming to Europe for the first time this year. The homestead of Intercom, Dublin seems like a great fit for a conference on product management—or, rather, a conference on Jobs to be Done, given the topics and speakers this year:
Intercom, recently announcing a massive plan for growth, doubling their product staff and closing a huge round of funding, is all about JTBD. Look no further than their books and blogs[1], to see what I mean. So when I saw co-founder Des Traynor on the list of speakers, I quickly moved from passive thought to actively thinking about going this year.
Seems simple at first, but incredibly deep when you move from theory to practice. @intercom is one to watch in 2018, seems like everywhere I go these days, that little smile is sitting in the corner of my screen.

— Casper Klenz-Kitenge (@cabgfx) December 21, 2017
Back to school
Flashback, 2012. I had just recently seen Clayton Christensen's talk on disruptive innovation, from Business of Software 2011 [2]. In it, he presented the notion of a job to be done. That solutions, organizations, entire business models, are made obsolete—disrupted—out of nowhere, seemingly, even though the underlying needs of the market don't change. And how seeing a market through this lens is the key to identify opportunities for growth, and sustaining it. I had to find out more.
I then came across Bob Moesta and Chris Spiek of the Re-Wired Group, and their work with Christensen to further develop the theory and practice of Jobs to be Done. Moesta and Spiek had developed their practice into a framework based on one central premise: Customers don't just hire a solution to get a job done, they also fire something else. They switch to a better way of getting the job done.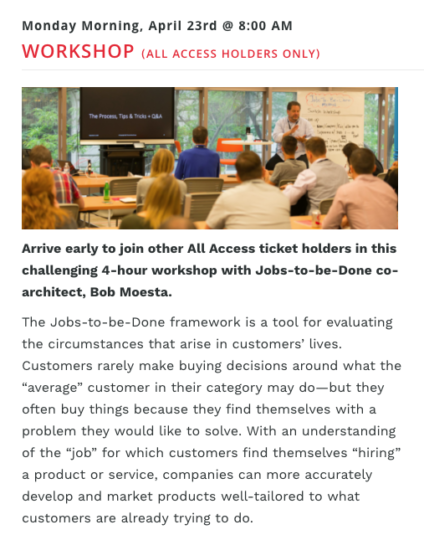 Bob and Chris' work on the Timeline and Forces Diagram were transformative to my career at the time, no hyperbole intended. I really started to get why, and how, the work I did created value. I gained a massive upgrade to my skillset, a new, deeper dimension to what 'user experience' meant. And it just felt right. So much so, that I found the courage to quit my job and start my own business, because I truly started to see why I myself was being hired. Not to design websites, but to help promote a message, support a workflow, etc.
I think you can understand why I immediately went for the All-Access Ticket.
Connecting the dots
Incidentally, Spiek and Moesta started working with Ryan Singer and Jason Fried, which led to the first Switch workshops at 37Signals HQ in Chicago. Already a long-time fan of the Basecamp approach, the insights they shared from those workshops were really insightful, borderline jaw-dropping some of the time [3]. Seeing these guys collaborate, it became very apparent how powerful a concept JTBD is.
More to the point, I took special note of what Ryan Singer was sharing at the time, on how this line of thinking informed his work on product design and strategy for Basecamp. I've been following Ryan for a long time, ever since his infamous Play-by-Play video series with Peepcode [4], where he works through a problem, from concept to getting real. Coming up on 10 years, it's still one of the most incredible displays of digital craftmanship I've ever seen.
And Ryan is up to something these days. If you follow him on Twitter, you'll undoubtedly have noticed his thinking out loud about strategy, workflow and process, and of course, demand thinking. Over the past 12–18 months, Ryan has been sharing some really insightful tweets and posts, perhaps the most important being his notion of the Hill Climb: How projects move from uncertainty (uphill) to certainty (downhill), and how to track and learn from it.
I have just been subjected to the horror that is JIRA boards, on a client project. I understand the necessity of tight, structured workflows, specially on large teams. Been there. But how does this interface, and the approach to work it affords, contribute to throughput?

— Casper Klenz-Kitenge (@cabgfx) April 18, 2018
Given my rant the other day, on ways not to visualize work, I'm really curious to learn more about how they chart work on a 'Hill'. I could see this becoming a defining factor of Basecamp in the future, in no small part because of how it ties into Ryan's thinking about patterns (time, space, system, etc.) in products and workflow. Which seems to be exactly the topic of his talk at INDUSTRY: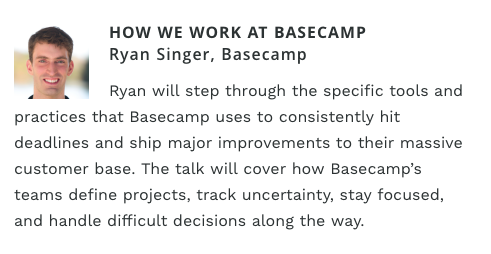 Seeing what's next
These sessions alone would be worth the ticket, plane + airbed to me. But there's more. So much more. Like how the creator of one of my primary tools for a loong time, Balsamiq Mockups, is on stage to talk about "Building Products that People Love, Want and Need". Damn straight. Not in the least because Peldi founded a company with the approach and work ethic I myself aspire to.
Or how about Elizabeth Ayer, whom I hadn't previously heard of, but immediately had to follow on twitter, when I saw this from the abstract of her talk:
What is it that makes features so appealing, compared to problems or outcomes?
Uh-huh.
To top it all off, the onboarding is great, communication about event, agenda, etc. has been great, and I think the diversity in the speaker lineup is acceptable (said the straight white guy), even though it's 8–5 male/female, from what I could tell.
Are you going? Hit me up on Twitter, I'd love to connect with you.
Also, I will be compiling and sharing insights from the conference, as much as humanly possible. If you want the recap, you should sign up for my newsletter.