What I Took Home from #INDUSTRY18
The place was swarming with bright minds, both on and off stage, from companies like Intercom, Basecamp, Balsamiq, Netflix, Square, and many more. Everyone was excited to learn, share and make new connections, perhaps none like Mike and Paul, the co-founders of Product Collective. These guys really know what they're doing — from onboarding, to personal greets, the show and schedule, everything. This was definitely not a lone experience. And thanks for the pint o' Guiness, Paul!
Jobs to Be Done Interviews Are the Future of Customer Research
As anyone who's ever been to a conference will know, capturing all the gems and take-aways is damn near impossible. But no need, because the people behind this conference have been doing their homework: Specifically, Mike and Paul have been working with Bob Moesta, doing Jobs to be Done 'Switch' interviews to uncover the Jobs people are hiring this conference for. One particular insight struck them:
A lot of people struggled with justifying the conference to their boss. Doing the big recap; being on the hook for 'lessons learned', caused a lot of anxiety around the purchase (the Switch).
Armed with this insight, they figured: "Why don't we write up all the notes and take-aways for them?" Providing a wrapped-up, shareable PDF, with all the notes and key insights, immediately after the conference, would free up attendees to look and listen, while drastically lowering this barrier to purchase.
So they hired a journalist to do one thing, and one thing only: Write it all up, and have the PDF ready @ 5pm on the last day of the conference. You could literally see everyone closing their laptop and putting away their phones, as soon as this was announced before the first talk kicked off.
This is the power of doing Jobs to be Done interviews:
By understanding what really dictates customer behavior — the forces that make people act to get the job done and make progress — you gain unparalleled qualitative insights, and the lens to spot the little big details that make all the difference.
The PDF is at the bottom of this post, btw.
And wouldn't you know, Bob Moesta himself was kicking off the conference with a 4-hour workshop Monday morning.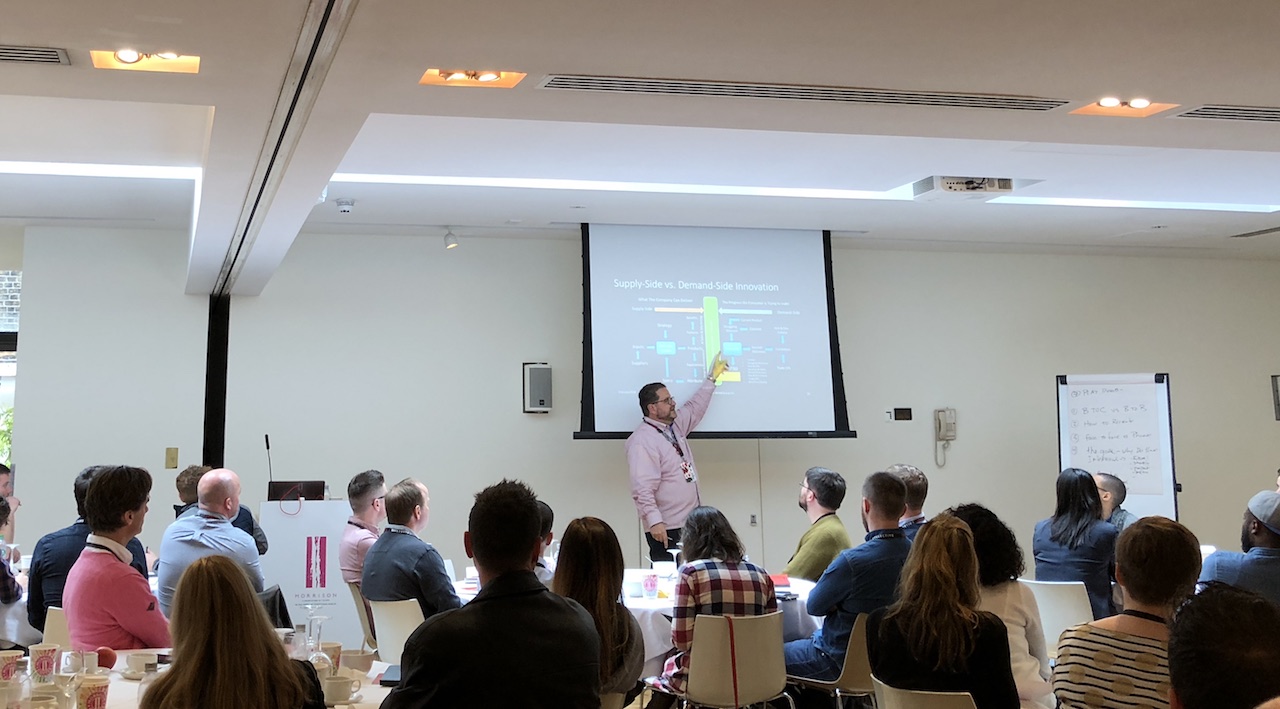 Do's & Dont's When Doing Jobs To Be Done Interviews
Earlier this month, I was presenting the Switch interview technique to the #JTBD·CPH meetup group, as designed by Bob Moesta, with partner Chris Spiek, and working directly with Clayton Christensen on evolving the theory of Jobs to be Done.
Moesta, who by his own account has helped launch 3500+ products, has been instrumental to my own work with the theory and practice of JTBD, so I was eager to hear how Switch is taught by the Maestro. I think I could pass an exam by now, but I certainly picked up some new stuff. Here's (some of) what I took back from the session:
Planning is guessing. You don't know what works until you really understand what people need from your solution, product or service. The qualitative insights yielded by Switch interviews have no match, when done right. Bob backed this up with impressive case studies from his work with Intercom, Basecamp, Snickers, McDonald's, and more.
10 Switch interviews beats any amount of quantitative insights. Think about it: If you're really doing something *new*, something innovative, there is, by the very nature of it, no existing data. The JTBD framework, pioneered by Bob, helps you identify non-consumption: the places where people want to get a job done, but can't. Yet…
Map your notes during the interview. I usually try to identify the forces (push, pull, habits, anxiety) in interview answers, after concluding an interview. Bob recommends mapping your notes to the four forces during the interview. We practiced several interviews, and it worked well. I liked his 'Cross+Curve' shorthand template for interview notes, and have updated my own note kit to match. Find it below.
How to focus your team and product development
As I've said before, Intercom is one to watch for 2018. They are firing on all cylinders, recently anouncing a plan to double staff, closing huge funding, and relaunching their core product which looks amazing. And they are all about JTBD.
Des Traynor, co-founder and Chief Strategy Officer of Intercom, kicked off the main conference with an amazing talk on Product Strategy When Scaling a Company. Normally, my buzz-o-meter would have gone off, but Des has been there, done that. Here's a few gems:
Make today's decisions tomorrow's principles. Whenever you're making decisions on product strategy, like, "should we build an integration for Trello? or Asana? and GitHub?", look for ways to turn that decision into a principle: "Our stance on integrations is __".
Opportunities should be Viable, Feasible, and Desirable. When you have an idea for a feature, or even a new product, ask yourself: Can it make money? Can it be done? Does anyone want it? If it's not 3 x Yes, don't bother.
Align your team around value, not innovation. Cool tech is not enough. What you build must serve a real purpose; something of value to customers. Sounds simple, yet so often missed or ignored.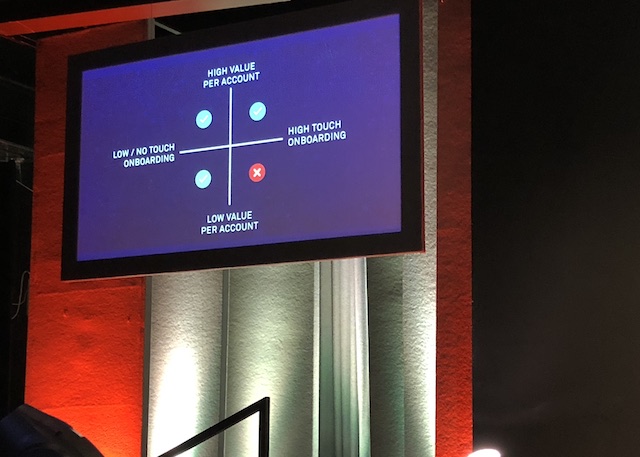 Longevity over Growth
Two people in particular provided some reassuring insights: Peldi, founder and CEO of Balsamiq, and Ryan Singer, Head of Strategy at Basecamp. They are both behind some of my most beloved software products, of which I have been a customer for five and nine years, respectively. The companies they represent are also both the type of business I myself aspire to have: Healthy, sustainable, independent, and not for everyone.
Here are some insights I took from their talks + Q&A sessions:
Product management ≠ Project management. Like Ryan said, most software companies employ 'product managers' that really do nothing more than shuffle tasks around and keep other people busy.
Forget the competition. Copying what others are doing? A loser's mentality, if you ask Peldi. Like, is that really the best you can do? Better to focus on customer experience, and compete on Customer Service, like they do at Balsamiq: "The more you understand your customer, the easier everything else becomes."
Managing work is more about Known vs. Unknown, than Done vs. Not Done. Ryan demonstrated his latest thinking on product strategy, and I truly believe he is on to something with his notion of the 'Hill Climb': Visualizing work as moving uphill (uncertainty) and then downhill (certainty), to spot problems early on and promote team collaboration when things do get stuck. "I'm not seeing stuff being done, I'm seeing problems being solved." Powerful stuff.
Seeing how Basecamp and Balsamiq are both going stronger than ever, being almost veterans in startup years (Basecamp has been around for 15 years, Balsamiq coming up on 10) I think it's safe to say their advice and lessons learned are worth paying attention to.
Notes from two days at Dublin Castle
There were of course many more take-aways, but this post is already going way off the reel.
Take a look at the PDF below with all the key take-aways distilled, and keep an eye on @prodcollective. I hear videos from the talks are on the way.
And this insight, in the replies to Ryan Singer's above, on Product Management ≠ Project Management, seemed to resonate with people: